Ze Liang has progressed significantly since he first started attending Day Activity Centre (Siglap) [DAC (Siglap)] in November 2007. He used to be extremely rigid, reacting physically if there were changes to his routine, and refused to eat all but limited types of food.
His coaches worked patiently with Ze Liang and his family to reduce his anxiety levels and to engage him more meaningfully at home and the DAC. In his time at DAC (Siglap), Ze Liang participated in the DAC Cafeteria programme at SAAC, as well as a laundry programme at a home for the elderly. He even worked part-time, stocking shelves and checking the expiry dates of products in the convenience store at a petrol station.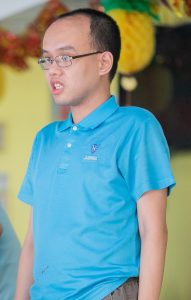 He progressed from being extremely rigid to being able to accept some changes to his routine with minimal anxiety. And he even expanded the range of food that he eats.
Progressing at DAC (Siglap)
Ze Liang's coaches describe him as a client who follows instructions and is generally compliant in class. He loves completing worksheets, both at the DAC and at home, his favourite being word search worksheets. He enjoys class cooking sessions and usually asks for mushrooms that he can add to the recipe. And contrary to the stereotype that autistic people are aloof, Ze Liang greets coaches he is familiar with, including those who may have worked him several years earlier.
The Reality of Autism
Autism is not a disease that can be cured, nor is it a temporary condition. It is a lifelong. While persons on the autism spectrum can learn to adapt and adjust to the word in which they live, they continue to live with autism. In Ze Liang's case, this fact was highlighted when two major changes in 2020 caused his anxiety levels to escalate.
A change of transport service provider meant that the buses and routes to and from his home to the DAC were different. The arrival time at the DAC and when he reached home was also different. Ze Liang could not cope with these changes and his anxiety levels skyrocketed. He had major meltdowns when his parents tried to convince him to board the bus. Despite his coaches and parents trying various interventions, including the use of social stories and rewards, Ze Liang's stress levels remained high and he still refused to board the bus.
COVID-19 and the eight-week Circuit Breaker that Singapore imposed to address local transmissions, compounded the situation.
From the middle of the year, Ze Liang's parents decided to compromise and Ze Liang now only attends the DAC part-time – two days a week, instead of five.
Stepping Forward Again
Ze Liang's coaches continue to work patiently with him when he is at the DAC to try to help him recognise his emotions so that he can better self-regulate when he becomes anxious. One of his goals this year is to display "good behaviour", which includes avoiding talking about subjects that cause him stress. Ze Liang has a tendency to overthink and when he talks about the past or Chinese New Year (he dislikes festive occasions), his anxiety levels increase. Through helping him understand how he is feeling and also focussing on "positive behaviour", he is better able to manage and regulate himself when necessary. His coaches have also enabled him to ask for rest in class when he is tired (usually the day after a big meltdown at home). This too helps to keep his stress levels down.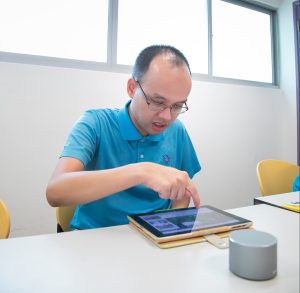 Ze Liang is able to remember what he learnt in the past when he was the Cafeteria programme and laundry programme, and still enjoys working relatively independently. He is able to handle housekeeping tasks as well as repetitive production work. With some support, he is also able to handle a cash register.
While Ze Liang had setbacks in his progress last year, he is proving that he is still vocationally capable. With an accepting environment and the right support, Ze Liang could be a diligent and productive employee in a light production or retail establishment.