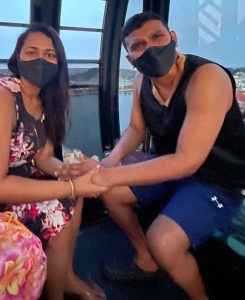 What is it like to share family life with a special sibling? Let's get an inside look at the bond siblings share, with SAAC@Siblings4LIFE series.
Let's meet elder sister Kavitha and 29-year-old Gajan, a client at our Day Activity Centre (DAC) in Sengkang. In 2011, the family relocated from the United States back to Singapore for good due to their father's work deployment. Then, activity centres in Singapore catering specifically to persons with autism were scarce, and there was alway long wait lists. The family had to wait for a good three years before landing a spot in the DAC at St. Andrew's Autism Centre (SAAC).
Learning the Basics: Patience + Understanding
She was five when her parents told her that her younger brother was autistic. Ever patient and nurturing, her parents took time to explain to her about autism.
"It was challenging for my parents as autism was not widely known 20 years back," Kavitha shared. "My parents had to do a lot of research, and spoke to many people to know what autism was about, and how we could care for Gajan."
As a child, she would find it frustrating, as Gajan would not listen or respond to instructions. But thankfully, their parents were always around to remind her to be patient, and that her brother has autism and would need more guidance and understanding.
"I find it rewarding to witness how Gajan has changed. It takes a lot of patience to know Gajan, and I am glad that he is appreciative of me being around him," added Kavitha.
He's My Brother
Growing up, she felt the need to be protective of her brother, and would stand up for him when he was bullied. "I was already schooling, and knew what bullying was," shared Kavitha. "I would protect him, and take the chance to educate others about autism."
Even though Gajan has become more verbal over the years, communicating and expressing his requests, there are instances of random meltdowns especially in public areas. These can still be challenging for Kavitha and her parents, with stares from strangers adding stress on the family as they worked at calming Gajan down.
"He's a sweet boy who would actually express his apology in his own ways," added Kavitha. "He'll cross his wrists over each other to form a cross slightly away from his heart to show that he's sorry." While others may interpret this as a defense stance, it could also mean that he understands what he has done was wrong, and is willing to apologise from the bottom of his heart.
At times, Gajan would show affection to Kavitha unexpectedly by sitting beside her, or touching her head, or even give her a kiss on her cheeks. Such affection, most likely, was picked up by Gajan through their mother's affectionate love towards them and her family members, shaping the person Gajan is today.

Embracing Autism as A Family
Autism is not something the family avoids. Instead, they embrace it with positivity. "My mom says this [the home] will be the best environment for him to flourish in, and I believe that she, as a nurturing person, would be able to give him the environment he needs," Kavitha explained. "The question 'Why me' is never a negative thing, as my mom would have shared during our younger days that we have the time, the means and the love to give."
Kavitha does not hide Gajan from her friends, and instead invites them over to her house regularly, making it a point to introduce him to her friends, and educate them about autism and his (he does often get too close to others for their comfort).
Through Gajan, Kavitha has learned not to judge something by its cover. "For instance, when I see a child crying in public, I know now not to be so quick to judge and be understanding towards their situation." Often, we pass quick judgements based on our initial observations, which cloud our perception in the process. Only when we put ourselves in the shoes of others will we realise that things are not what they seem on the surface, and we should spend more time with others to get to know them better.
Love is the Foundation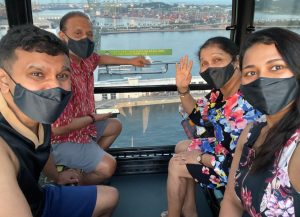 Their mother was a nurturer, and never one to shy from showing affection. Being a firm believer of inclusion, she made sure to bring both Kavitha and Gajan out together so that they could spend family time and bond. "We grew up in a nurturing environment. Our mother would always hug us to show her love for us," says Kavitha.
Caring for Gajan was a natural thing to do. Her parents did not impose on her to care for her non-verbal younger brother, who has difficulty expressing his needs and wants. To her, taking on her parents' caregiving duties, and providing for Gajan when her parents are no longer able is a natural next step as they age and eventually pass on. This promise, thankfully, was also supported by her big-hearted partner, who assured her that he will also play a pivotal part in caring for Gajan.
Tips for Fellow Siblings
The journey with an autistic sibling may not be easy or smooth-sailing, though there are life lessons that can be gleaned from interactions and shared experiences. Having gone through ups and downs, Kavitha has three simple tips to share:
Do try to be as patient as you can ever be. Everyone learns and understands at different speed; you might learn quickly, but it might not be the case for some of them
Do have the courage to educate others about autism
Do not be too hard on yourself or keep your feelings to yourself. Instead, talk to others to manage yourself. You do not have to do everything and solve it by yourself
"Everyone has their own emotions. No matter what we do and react, they [persons on the autism spectrum] know and can feel it," Kavitha said. "Treat everyone equally and normally with respect."
Siblings are for life, and Gajan is indeed fortunate to have a supportive sister and family. For Kavitha, she is not only a sister to Gajan, but also an educator who ensures that he continues learning and developing in their journey. "It's a two-way learning journey, and it does not stop. We both learn what he can and cannot do as one."
"I might not be his favourite person, but I will continue to care for him for as long as I can."