Meet two mothers of two adults on the autism spectrum SAAC has had the privilege of working with. Each has a unique story that illustrates the determination and resilience needed to care for and raise autistic children.
Mighty Momma's a Fighter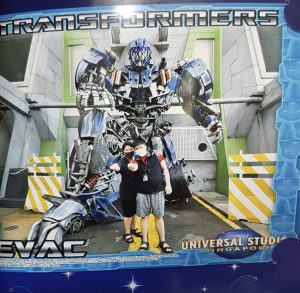 Cheerful, funny, chatty. These are a few adjectives commonly associated with Mdm Kwa, mother of Zyn Ing, a 20-year-old autistic resident at St. Andrew's Adult Home (Sengkang) [SAAH].
Uncertainty
No eye contact, no speech. Her son Zyn Ing, was 18 months old when he was diagnosed with autism. "I had never heard of autism, and it did not run in the family until now," Mdm Kwa shared. She spent nights and months crying, trying to grapple with the fact that their son has autism. Their future, with a special needs child, seemed uncertain.
Self-dependent
Zyn Ing was their only child, as well as the eldest grandson in the family. Unable to accept that he has an autistic son, Zyn Ing's father soon excused himself from caring for his son. It did not help that he had been retrenched and was unemployed for four years. Without the support of her spouse, Mdm Kwa, a housewife, was at her wits' end. "I had to go out to work for myself and Zyn Ing, whose therapy treatment cost at least $1K a month."
Years later, their relationship soured. Mdm Kwa and her husband filed for divorce.
Sirens Calling
In 2014, she discovered she had ovarian cancer. She underwent chemotherapy and various treatment. Fortunately, her cancer went into remission in late 2019. As fate would have it, her ex-husband collapsed one day in January 2020. He had suffered a major stroke.
By then, Zyn Ing was under her ex-husband's care. Despite everything, he had taken good care of Zyn Ing while he was able to do so. However, he was unable to care for Zyn Ing after his stroke, and Mdm Kwa's ex-mother-in-law was also unwilling to help. As a result, Mdm Kwa had to look for alternative accommodation for him.
Adding to the compounding issues, her ex-father-in-law had passed away at the same time. Shortly after this, Zyn Ing met with a freak incident, and had to undergo urgent surgery. All of this happened within a six-month period when the world was battling with the uncertainties of COVID-19.
A Word of Advice
Despite all the adversities, Mdm Kwa refuses to give up. "If you put your heart into [caring for] your child, God will help and find a way."
For other mothers struggling to care for their child with special needs, Mdm Kwa has this to say, "Devote more time to your child. Strike a work-like balance, and do not mull over negativity."
"I'm amazed to have persevered through this journey. Don't give up! You've given life to your child, so continue to provide the care he needs," Mdm Kwa added.
Beneath her positive outlook is a life peppered with unimaginable hardship.Thank you Mdm Kwa, and all the mothers out there for your sacrifices and faith in their children. Remember, you have been nothing but amazing.
Momma's Pure and Unconditional Love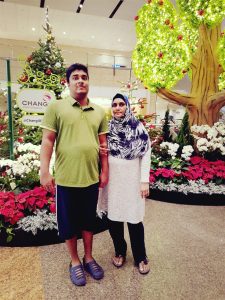 Mdm Waheedah is the mother of Shah Rukh, a 23-year-old adult on the autism spectrum we have had the pleasure of supporting in St. Andrew's Autism School (SAAS) and Day Activity Centre (Siglap) for the past 11 years.
Shock
Her world changed in 2001, when her younger son was diagnosed with autism. "What is autism?" I was shocked. Very shocked! No one in the family has autism, so why us?" Mdm Waheedah and her husband wondered hard. "I cried all the time. I did not know what to do," said Waheedah as she recalled the early days of realisation that their son has autism.
Soldiering Alone; I'm Your World
The responsibility of caring for Shah Rukh fell on her, alone. Her husband could not accept the fact that they had a son with autism, and refused to listen and understand how to care for a child with special needs. Instead, he decided to teach and raise him up like any other child. On the other hand, their elder son, unable to communicate and understand Shah Rukh's actions, refused to care for his younger brother. He was angry at his younger brother.
So, Mdm Waheedah took on many roles herself – caregiver, teacher, trainer, therapist – all in one, in her capacity as a mother. She believed in giving her son the best in everything.
Struggle
"It was a tough journey. I would wait for him in school, and gather information from his teachers and therapists, so that I know how to take care of him," Mdm Waheedah recounted.
She would stay in the canteen while waiting for Shah Rukh to finish his two-hour school, so that she could speak with and learn the different techniques from Shah Rukh's teachers and therapists.
The Power of Mom and Love
Waheedah is a stronger person today. It may not be easy in this motherhood journey, but it makes her happy seeing the improvements of her son, and knowing and understanding how to manage him during his meltdowns.
"He can take care of himself and do household chores, and that I'm happy," Waheedah added.
"As a mother, I want him to learn. Having autism doesn't mean he has to stay at home and not go out," shared Waheedah of her dreams for Shah Rukh.
A Timely Reminder of Acceptance
For other mothers who are still struggling to care for their child with special needs, Waheedah shared, "Stay strong for our children and be understanding. Enjoy the process of caring for them. Do not care about what others may think or say. And bring our children out. Let them learn and explore."
"What's there to hide? I want to let people know that he is autistic, but he learns and has made improvements in his behaviors," Waheedah declared proudly.
To Mdm Waheedah, Mdm Kwa, and all the mothers, a big thank you for all the nurturement and faith in their children. With the pure and unconditional love bestowed upon us, we continue to grow and learn.