Celebrating 16 years of commitment to the autism community this year, let's take a closer look at the SAAC impact on the lives of those we serve.
Meet Ashura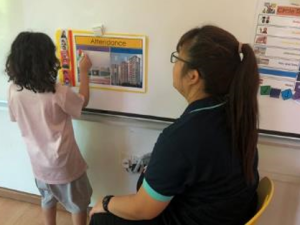 When six-year-old Ashura joined St. Andrew's Autism School in 2017, it was a part-time arrangement. She was non-verbal, not toilet-trained, unable to communicate her needs and learn in a group setting. Then, she was not able to sit still for more than 10 seconds at a time, would climb on furniture and out of windows, and gagged and vomited as she gobbled her food.
She certainly was not yet ready at that point in time to access learning in a group setting. So, she initially attended school on a two-hour programme, five days a week, with an Occupational Therapist (OT). The one-on-one sessions involved OT intervention, leisure and snack time to help her get adjusted to a school setting.
Less than four years later, the efforts of her teachers, psychologists and occupational therapists have impacted her for good. Now that she is able to communicate her needs and wants, and be understood through speech, she has fewer meltdowns. At 11 years old, Ashura is fully integrated into the school, participates in class, is part of the CCA Fitness Club and is even a part of the school-wide "I am Safe" programme. She has also started to speak and sing.
So how was it made possible?
The Journey
After the sessions with the OT in 2017, Ashura's teachers, working with the OTs and psychologists, used structured teaching and other evidence-based practices to begin teaching her one-one one. They discovered that she liked painting and puzzles. They used these activities get her to sit and focus on table tasks. Ashura also learnt to use the Picture Exchange Communication System (PECS) to request for paints and other things she wanted. Under the watchful eyes of her teachers, she began to show an interest in the letters of the alphabet.
In January 2018, she transitioned into a classroom setting. She learnt joint attention, receptive language and how to cooperate with others. She also learnt how to adapt to school routines and schedules, turn taking, packing and unpacking, and being seated while having her snack.
SAAC Impact
The efforts of her teachers, the psychologists and OTs resulted in her starting to speak and sing. She now learns new words and expands her vocabulary through songs. She is off diapers, and is also able to sit for more than 10 minutes at a time and concentrate and complete tasks such as matching shapes, colours or numbers. With her progress, her teachers are able to use activity-based rein-forcers (instead of food) to reinforce positive behaviour.
She has also learnt self-regulation techniques, so she experiences far fewer meltdowns than she used to.
Meet Stephen, Father of Shawn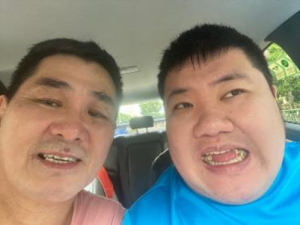 Shawn is a 34-year-old autistic adult who has been attending our Day Activity Centre (DAC) for the past 10 years.
Stephen had always wanted to be a father. Five years into his marriage though, that dream of parenthood seemed out of reach, until one day when a special phone call changed everything. With the adoption of newborn Shawn, Stephen's and his wife's prayers were answered and their family of three, felt complete.
The unexpected and miraculous addition of two biological daughters later on did not make Stephen and his wife love Shawn any less. In fact, they loved him more. To Stephen and the family, Shawn was indeed special. When four-year-old Shawn was diagnosed with autism, Stephen could not help but feel a deep sense of purpose.
"When we were told the (autism) diagnosis, I just felt that we must have been chosen to be his family because God knew that we could care for Shawn and give him with a good home," Stephen reflected.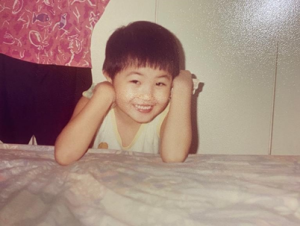 Stephen and the family embraced Shawn. They embraced autism. This is a dad who believes in the power of acceptance.
The devoted dad elaborated, "I'm just an ordinary dad. I run out of patience for Shawn many times. But I choose to focus on Shawn's innocence and honesty."
SAAC Impact
While he tended to bite and pinch himself when he was agitated, Shawn has learnt techniques to calm himself at the DAC. Now, whenever he is upset or distressed, Shawn is able to self-regulate and would request to go to a quiet place, or take a walk.
Meet Xuan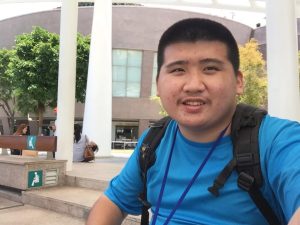 Mr and Mrs Yeo have been the main caregivers for Xuan for over two decades. Over time, it had taken a toll on the physical, mental and emotional health of the family. Had it not been so, Mr and Mrs Yeo would have been reluctant to explore other options of daily caregiving for their precious child. It was therefore no wonder that the family requested for a slow and gradual transition for Xuan to his stay at St. Andrew's Adult Home (Sengkang) [SAAH]; a transition that took almost six months. It was a transition that brought increasing assurance that a community could come alongside them in the care of their loved one on the autism spectrum.
Yet, in the six months of transition, the family was increasing assured of the community and quality of care at the home, and was convinced that Xuan, who is prone to epilepsy at night was in safe hands. Mr and Mrs Yeo's growing trust in the staff's care for Xie Xuan was the game changer. They were also heartened by the love they have for their son.
Xuan, or Xie Xuan, whose name in Chinese characters suggests, is to "glow brightly together". You too can play a part in illuminating brightly the lives of the children, youths and adults we support at St.  Andrew's Autism Centre. Embracing autism, transforming lives ―this is the SAAC impact.