The End Caps Assembly Project began in a relatively humble manner in 2016.
By April 2019, about two and a half years after it first began, the project had grown significantly with 10 classes of SAAS students and several classes of Day Activity Centre (Siglap) [DAC (Siglap)] clients assembling 44,000 end caps and 86,000 top and bottom pads!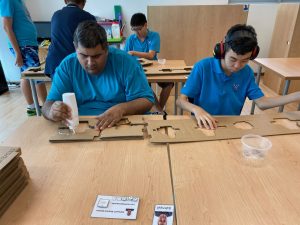 When the project began in October 2016, Federal Packaging's Managing Director Lau Chee Peng personally delivered the material for 500 end caps to St. Andrew's Autism Centre (SAAC) – in his own car. Then, four classes of senior students at St. Andrew's Autism School (SAAS) assembled the end caps, before Chee Peng returned, again using his car, end caps. This continued for the first few batches of assembly, before the scale grew quickly to several thousand end caps assembled for each batch.
Two to three years down the road, in place of one person delivering material and collecting the assembled end caps, a team of teachers and coaches facilitate the unloading of the material from a large lorry and loading of the assembled end caps and top and bottom pads.
The Beginning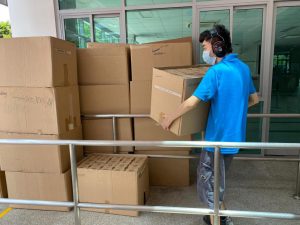 In 2016, St. Andrew's Autism Centre (SAAC) Management Committee member Tay Li Ling introduced Federal Packaging's Managing Director, Lau Chee Peng, to SAAS. And in October that year, Federal Packaging confirmed its intention of collaborating with SAAS through a CSR project by signing a letter of undertaking. The aim of the project was simple – to support the vocational learning of SAAS students.
Fast Forward to the Present
Five years on, the partnership between Federal Packaging and SAAS is still strong, and has in fact, expanded to include clients from Day Activity Centre (Siglap) [DAC (Siglap)], who joined the End Caps Assembling Project from 2017. And, from March 2019, the project has also included the assembly of top and bottom pads.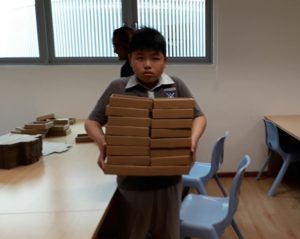 As with for the end caps, Federal Packaging provide visuals that teachers and coaches could use to teach students and clients the steps involved in assembly. As the assembly process for the top and bottom pads are more complex and require greater dexterity, two members of the staff from Federal Packaging were at SAAC to demonstrate the process.
When Singapore announced a Circuit Breaker in April 2020, work on the end caps and top and bottom pads had to stop. As the nation began a safe reopening by moving in to Phase 1 and Phase 2, SAAS students involved in the project resumed making end caps and top and bottom pads in smaller quantities, as they were also trying to make up for lost curriculum time. From the beginning of 2021, the project has gradually increased production quantities.
Commitment for the Future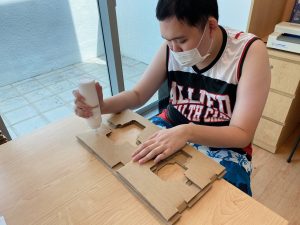 In the first quarter of this year, a team from Federal Packaging visited SAAC and affirmed its desire to continue its partnership with SAAC. While the objective of the collaboration is still the same – to support the vocational learning of students and clients – both Federal Packaging and SAAC are looking at stretching students' and clients' potential and work skills by introducing more complex tasks.
At SAAC, we are grateful for supportive partners like Federal Packaging who embrace the autism cause and are willing to go the extra mile to collaborate to develop our students' and clients' vocationally.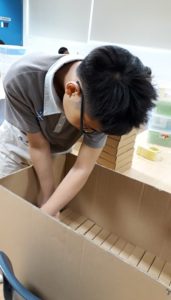 Note: Some of these images were taken before COVID-19.